REFUGEE RESETTLEMENT PROGRAM CURRENT IN-KIND DONATION NEEDS:
Furniture and Household Donations (new or gently used):
Twin and full-sized mattresses

Sofas/ottomans/love seats and armchairs

Dining chairs

Blankets, comforters, sheets (Twin and Full size only) and towels

Toiletries and cleaning supplies

Dinner plates, cups, drinking glasses, silverware, mixing bowls, utensils, pots and frying pans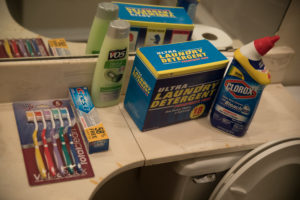 Here is a link to the full list of items needed.
***If you have the capability to drop off large furniture donations please call the office and a staff member will arrange to meet you at one of our storage locations. Occasionally, we will have a volunteer available to pick up the furniture but we do not have regular pickup service. For other household items, we ask that you bring them directly to CRRA during our office hours, 9AM to 5PM, Monday through Friday.
*******************************
---
The best way to learn about refugee resettlement process is to get involved first-hand. Volunteers play an active role in helping Carolina Refugee Resettlement Agency's small, dedicated staff work with newly arriving refugees. We invite you to join our team and experience it for yourself!
CRRA's Volunteers:
Help set-up apartments for new arrivals

Drive refugees to their appointments

Enroll refugee children in school

Interpret (Informal)

Train refugees on how to use bus system

Assist the agency with administrative duties

Provide support in Cultural Orientation classes

Coach students studying for citizenship preparation

Organize and tidy the office

Sort donations

Organize donation drive

Assist with special projects
Our office hours are 9AM to 5PM, Monday through Friday. The majority of our volunteer opportunities are during that time, but there are occasional evening and weekend events. Some opportunities are suitable for groups, seniors and teens (under parental supervision).
Internships
We offer engaging opportunities for college students to gain hands-on practical experience working with Charlotte's refugee community. If you are interested in an internship with us, please submit your volunteer application and we will help you get on board!