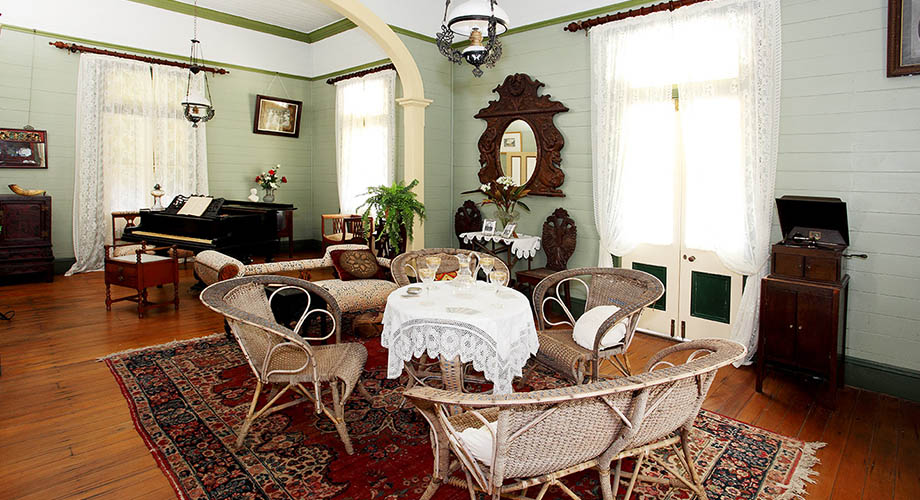 As a National Trust Queensland Heritage Volunteer, you'll love being able to enjoy the grounds of the Townsville Heritage Centre. Learn the history of the buildings and the fascinating stories of the people who lived in them.

Established by the Townsville Branch of the then National Trust of Queensland in 1978, the Heritage Centre is quintessential Townsville heritage. With its collection of heritage-listed buildings dating back to the late 1800s, the Townsville Heritage Centre presents special insight into the lives of workers, wealthier businessmen and professionals in the late 19th and early 20th centuries.

The main villa residence at the site is, 'Currajong', a large single-storey house, constructed in 1888 of timber, large rooms opening through French doors to wide decorative verandahs and was built for the more affluent resident. Currajong was constructed on the then outskirts of Townsville and was later commandeered to serve as a RAAF Hospital during the war.

There are two additional dwellings at the site set amongst tropical gardens. The Townsville Heritage Centre is important and much-loved community heritage place. Townsville Heritage Centre is popular for weddings and events as the stunning surroundings and immaculate gardens make it an ideal venue for many occasions.
INTERESTED IN VOLUNTEERING?
We have a range of volunteering opportunities available at this special property. There is sure to be something that appeals to you!
WHAT TO EXPECT
Volunteers at National Trust of Australia Queensland (NTAQ) properties play a key part of property operations and in making our guests feel welcome. Our Volunteers are committed to providing an unforgettable guest experience and showcasing our heritage in a vibrant and engaging manner.
WHAT ARE THE BENEFITS?
Learn more about our intriguing local history and being part of keeping this knowledge alive for future generations.

Join a warm and welcoming new friendship group and enjoy new social and cultural experiences.

Opportunity to gain new skills, knowledge and friendships.

You will be a registered volunteer with National Trust of Australia (Queensland), an ethical charity with a vision of inspiring others to conserve and showcase our natural and cultural heritage.
JOINING THE PROGRAM - COSTS AND BENEFITS
The NTAQ Heritage Volunteer program is free to join. In fact, we want to reward you, as a valued volunteer!

There is a one-month trial period for you to decide whether you would like to continue volunteering and we assess your fit with our program. At the end of this trial period, you become an approved volunteer. We hope you will stay as a member of this program for a minimum of six months.
As an approved NTAQ volunteer you receive:
A NTAQ name badge.

A NTAQ TEAM MEMBER Card allowing free entry to any National Trust Queensland property for the volunteer and up to 4 accompanying guests at each visit.

National Trust Queensland newsletters.

Invitations to National Trust Queensland events.

Team member discounts on food and beverage, retail, and Wildlife Experiences when visiting Currumbin Wildlife Sanctuary.

A 50% discount to National Trust Memberships.

Over time, we are seeking to create new discount partnerships to benefit our team members in our all regions.
APPLICATION PROCESS
Online Application via this BETTER IMPACT volunteer software.

To get started - please click on the green rectangle " FILL IN AN APPLICATION", and enter your details.

1 x Trial Shift
NEED MORE INFORMATION?
Please contact the friendly Heritage Site Coordinator on 07 4771 5873.
Please select any of the VOLUNTEER POSITIONS AVAILABLE below that are of interest to you. For more detail, click on the Continue ......