Programmatic - Virtual Reality Guide
Help customers experience the digital world like never before with the library's Virtual Reality headsets! VR Guides help make Virtual Reality more accessible to library customers by teaching them how to operate and use SJPL VR headsets and equipment, and making sure that participants take appropriate breaks.
Must be able to commit to 2-4 hours month.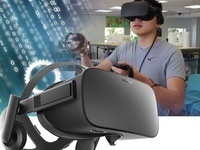 Requirements:
• Age 18 or older
• Enthusiasm for technology or experience with oculus rift
• Excellent communication skills
• Ability to interact effectively with individuals from diverse backgrounds and with a range of computer abilities.
• Patience
• Fingerprint clearance required for volunteers age 18 and over
Qualifications Required
I would like to volunteer